Right, I nearly forgot to advertise this here! I don't have a wishlist, because lol please. It takes me the full year in between summergens to come up with six prompts. Come on now. XDD My wishes are just obvious, basic things like "I hope someone reads me things" and "Dean love please" and "I'd like to watch SPN forever thanks."

But I'd aggressively second a lot of the wishes that others have posted!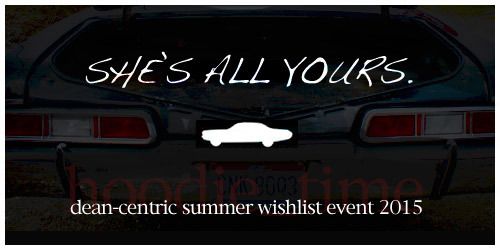 A Dean-centric Wish List/Wish Fulfillment Party!

[Click on the image to go to the event.]

And please forgive what is for real the world's laziest banner. It was a Sunday!